I don't remember when I first read about "bucket filling" on the web. However, even though this is geared toward elementary aged kids, I knew it could "work" in middle school. Let's face it-kids can be mean. It can even be "cool" to be mean. However, students can be taught how to be kind and how to be a friend. Sure, it's not in our official curriculum but how can a student learn when he or she is miserable? Answer-it's hard or impossible.
To be brief, there are a series of books by Carol McCloud. In these books, it is said that each person and animal has an invisible bucket. When you are nice to people, you fill their buckets and also fill your own. When you are mean to people, you are a bucket dipper. When people have a full bucket, they feel happy, etc.
At the start of the year, I talked to my homeroom about this. I told them that it was something I did last year and the students found it really helpful. This group of 19 boys and three girls said that they were interested. I put two or three students in charge of creating the bulletin board. We discussed some designed and everyone like the rainbow theme. I had the library pockets and made all the text on my Cricut Expressions 2. I used Cursive 101 because students were telling me that they couldn't read cursive. Another teacher lent me another cartridge to create the bucket. (Maybe a Disney one?) I went to several websites to download the bucket filler notes.
I got my first two bucket filler books on Amazon. However, I got more from generous donations on Donor's Choose. org. They have a lot of support for anti-bullying books, especially from The Townsend Press. To help support our classroom, please click the link below:
I copy them on colored paper, students cut them out, and we leave them on the shelf along with the books. I also put a bunch of cool pens in my awesome chalkboard mug. (Amazingly, none of these pens have been "permanently borrowed.")
When someone does something nice or helps someone, the recipient can "fill that student's bucket." It's really easy. Every few weeks, I will write each student a note and tape a small piece of candy to each note.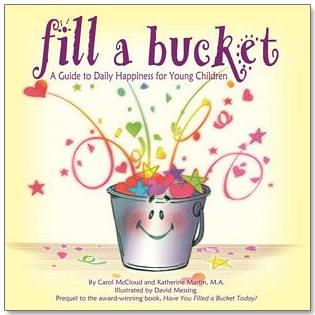 Published 2008
By Carol McCloud and Katherine Martin, M.A., and Illustrated by David Messing.
For Ages Birth - 7
32-page picture book
Soft cover ($8.95), Hard cover ($9.95)
From time to time, we will re-read one of the bucket books. However, after setting up the bulletin board and maintaining the notes, bucket filling just takes off. Although in middle school I have five classes, we only set up the bulletin board for our homeroom. As my other classes express interest, I will read them one of the books. Since this is an elementary type book, they often laugh. They might also sit on the floor to see the pictures of the book like smaller kids. However, students get the point and it still makes sense to them. You will start to hear students say to each other, "You just filled my bucket!" Okay, you will also hear some "kick a bucket" jokes. However, students are becoming aware of how words affect other people.
There are a ton of great websites on bucket filling. However, I found the ones below really helpful.
http://www.bucketfillers101.com/free-resources.php
http://www.teachingheart.net/bucket.html
http://myfunteacher.com/bucketfillers.htm